New Schleich Horse Riding Centre Stable 42344 with Rider 2 Horses & Accessories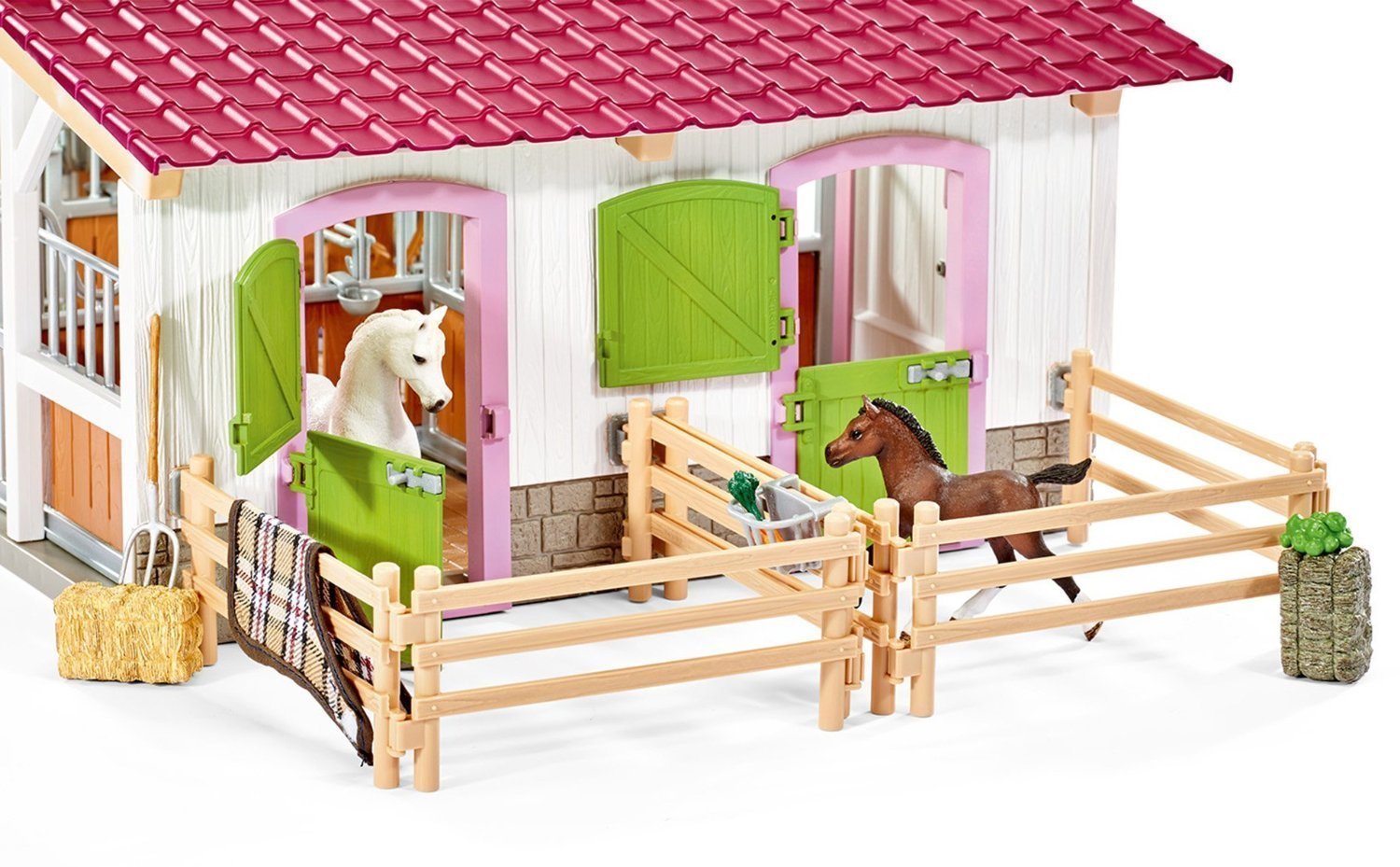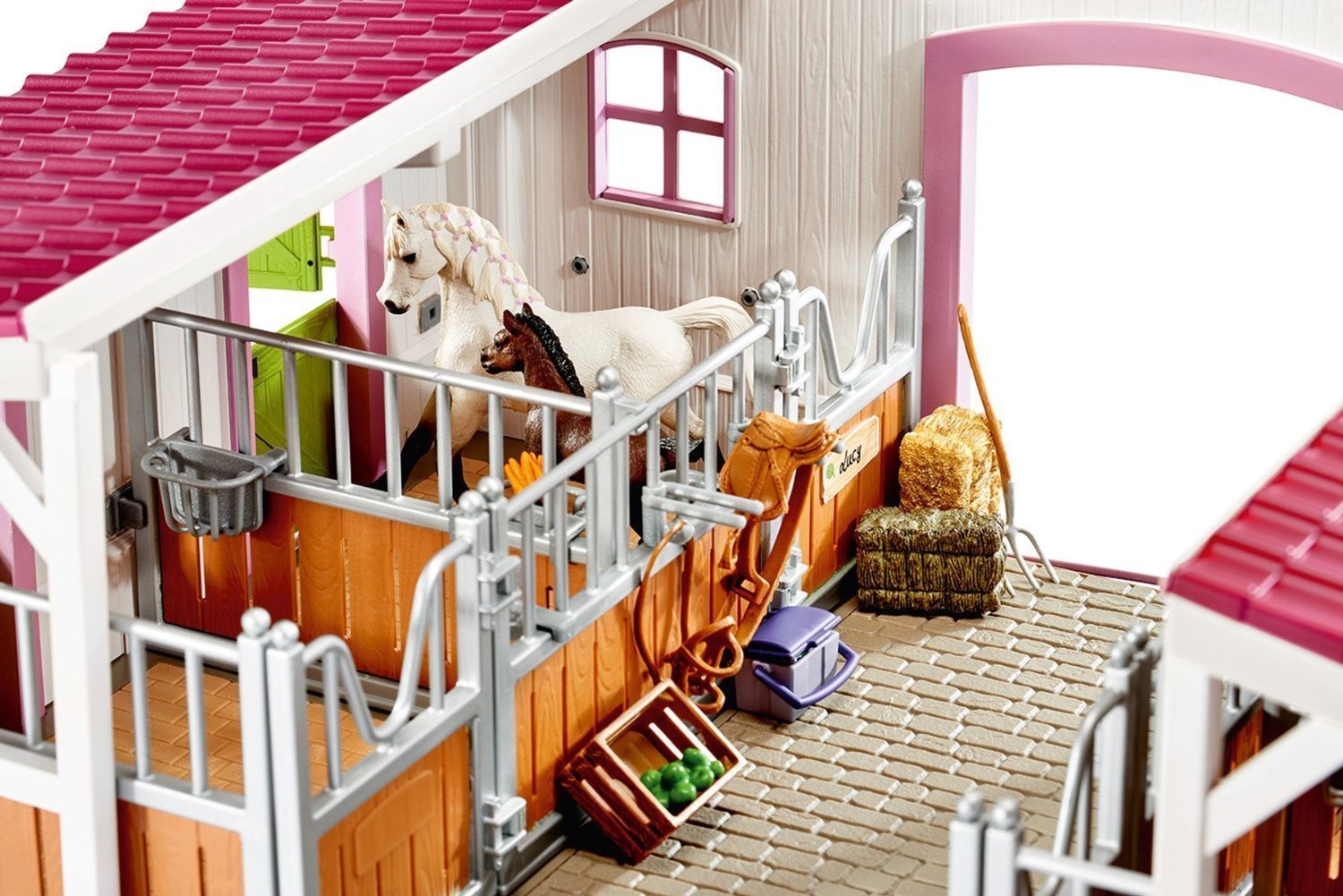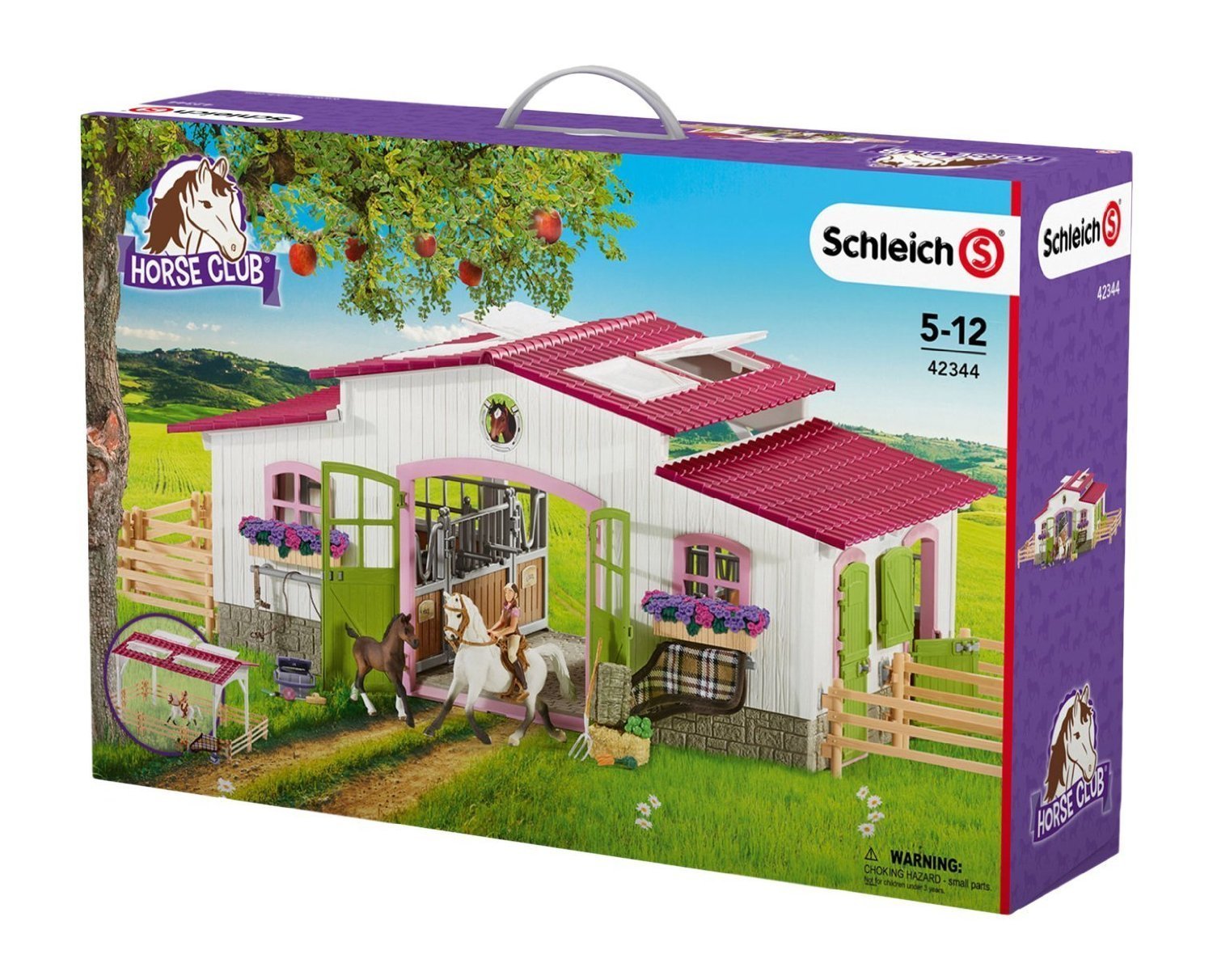 *Brand New*
Schleich Horse Riding Centre Stable with Accessories 42344
Suitable from 5yrs+
The new stable building is ready. With its green doors and pink windows, it looks simply incredible. Lissi and the other girls cant wait. The horses are in big stalls. They have bales of straw and feed, but they all want to ride out first.
The girls were allowed to help design this stable building. Thats why it turned out so incredibly beautiful.
Finally! The new stable building is ready! Excitedly, Lissi gets into the car. Her mum sets off. Hopefully it really is as beautiful as Mr Miller, the owner, promised! hopes Lissi. She leaps out the instant they arrive at the stables. Wow! Its even more beautiful than I imagined! With its green doors and pink windows and window frames, the stable building really does look simply incredible. Lissi immediately runs over from the car to the stable building. Her beloved Arab mare, Stella, is in one of the big stalls. I missed you so much! she exclaims. The two days theyd had to wait before they could finally see each other again had really felt like ages. She embraces her horse and fetches the feed box with apples and carrots. She feeds Stella and then the two of them can finally ride out. What a wonderful day! The sun is shining, a young Arab foal is prancing around the paddock, the birds are singing and Lissi is delighted by the new stable building. Later, she will brush and feed her mare again, and cover her in her special present a brand-new blanket.
Set includes:-
12 x Paddock fence sections
2 x Arab horses (horse and foal)
1 x Riding set with rider
2 x Hay and straw bales
4 x Feeding troughs
1 x Green apples
1 x Carrots
2 x Flower boxes
1 x Grooming set and box
1 x Chequered blanket
Sticker set
PLEASE NOTE THERE MAY BE AN EXTRA POSTAL CHARGE FOR THIS ITEM TO NORTHERN TERRITORY MESSAGE US BEFORE PURCHASE FOR A COST
Schleich replica hand-painted models feature incredibly detailed and true-to-life designs. Developed with the assistance of parents, teachers and children the Schleich ranges are especially designed for childrens hands.
Let your imagination come alive with Schleich!
BumpsieDaisy is an authorised retailer for Schleich
Please see our other listings or Visit My eBay Shopfor all your Baby,Nursery & Toy Needs - You will find our prices very Competitive and our service Excellent!

We accept payment by Paypal or Bank Deposit.  The bank deposit details will be shown once this payment method is chosen.

All items must be paid for within 3 days of the auction end, if payment is not received the item will be relisted and you will be reported to Ebay. 

Should you require more time to pay please send us a message and we will be happy to accommodate you the best we can.

All orders are despatched from our warehouse daily Monday through to Friday either via Couriers Please, Fastway or Australia Post. Please ensure you have provided us with your correct postal address and business name (if being posted to a business address) to avoid delays.

There are a limited number of items that we cannot post to PO Box addresses but will contact you for a physical street address should your item fall into this category.

Extra expenses incurred for re-delivery are the responsibility of the consignee of the goods. Your address is printed onto the packaging and collected from us personally by the carriers. If you are not available at the time of delivery a card will be left in your letterbox advising you that your package will be available to collect from your local Post Office or you will need to call Couriers Please to re-arrange delivery or collection with the courier.

If the goods are defective upon receipt, please contact us immediately. In the unlikely case, an incorrect item may be delivered, please let us know and we will rectify the problem immediately (at our cost of course).
BumpsieDaisy will accept returns please take note of our Returns Policy:

Faulty Items: All damages or faults must be reported to us within 48 hours. When consumer goods are purchased from BumpsieDaisy you as the buyer have a legal right to return the goods to ourselves and you will be issued with an immediate refund if the goods are either faulty, not fit for their purpose (don't do what they are supposed to do), or do not match our description. To obtain a refund you should return the goods within a reasonable time and not dispose of, lose, destroy or damage the goods in any way.

Unsuitable/Unwanted Items: You may return any item to BumpsieDaisy if you find it not to your liking however you must return the item within 7 working days of receiving the goods and you must inform us in writing of your wish to cancel the order by email. The goods must be returned to us at your own expense by registered post or courier within 7 days of the notice to cancel. Goods must be returned to us in an original 're-saleable' condition in the original packaging. Once we are in receipt of the goods we will issue a refund, less the original postage costs paid on purchase. Where hygiene products are purchased we are unable to accept a return of these items once the seals have been broken, unless proven otherwise faulty.
Any Questions?

Please check this listing page carefully as the answer is usually there. If not, let us know and we'll try our hardest to reply within one working day.

You are welcome to email us directly via bumpsiedaisybaby@yahoo.com.au or through eBay messages.
""
( )
""
( )
""
( )
""
( )
""
( )